@wisconsinjobsnow
The following is cross-posted from the Wisconsin Jobs Now blog:
Gov. Walker continues to express "concerns" about keeping people healthy in Wisconsin. Wisconsin is one of the few states that has yet to accept billions in dollars to give hundreds of thousands of citizens access to the healthcare they need to stay productive, and in many cases, stay alive. In his latest statements the Governor said, "given the uncertainty around the federal budget, long-term funding is highly uncertain . . ."
Not only has the Health and Human Services Secretary come out and affirmed that the "Medicaid expansion is not a bait-and-switch," but as we've mentioned before, this argument doesn't hold a lot of water, but even more demonstrative of the governor's attitude toward his constituents is when he brought up the fact that, "We already have one of the lowest rates of those uninsured in the country . . . "
The Governor is behaving in a callous manner. The fact that we have a low number of uninsured people in Wisconsin is BECAUSE of BadgerCare. It was a revolutionary program in its time and goes a long way to make sure that low-income children and their guardians get the affordable healthcare they deserve. However, there are still over 100,000 people on the BadgerCare waiting list, many of which have little hope of gaining access to healthcare through any other means. In addition, 4/5 of the people to be covered under the BadgerCare expansion in Wisconsin make TOO LITTLE MONEY to be eligible for subsidized health coverage under the Obamacare insurance exchange (which, incidentally, Walker refused to set up at the state level and left to the federal government to organize).
In short, if Walker does not accept the federal funding he's telling 168,000 Wisconsinites with no other viable option for health coverage that they don't deserve to have their illnesses, injuries, and long-term needs treated. He's telling the taxpayers of Wisconsin that he's fine with us footing over $65 million in additional healthcare costs. He's telling the unemployed that Wisconsin doesn't need to create 10,000 in-state healthcare jobs.
And most egregiously, he's telling the terminally ill that they don't deserve the treatment they need to live.
Walker should stay out of national politics. Whatever "pats on the back" he earns by turning down this funding aren't worth the lives that will be lost.
It's simple. Accept the money, do what's right, say YES to BadgerCare.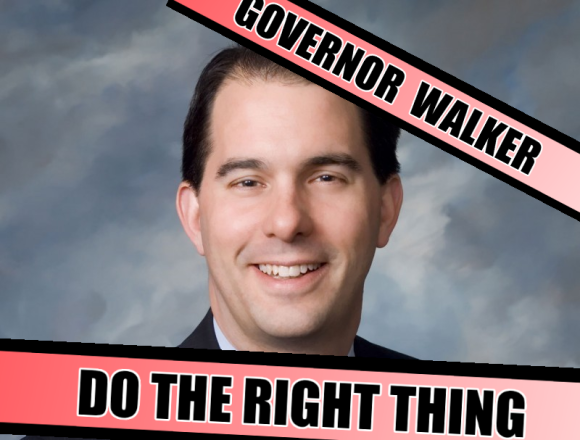 Editor's Note: This submission comes from Matthew Finnell of Wisconsin Jobs Now, a 99 Uniting coalition member.
The most important decision Gov. Walker may make over the remainder of his term is whether or not to accept $12 billion in federal funds from the Affordable Care Act to strengthen and expand the state's BadgerCare program.
Under the recent Supreme Court ruling on "Obamacare," states are allowed to opt-out of the once-mandatory Medicaid expansion built into the bill. Many states, like Texas, Louisiana, Iowa, and South Carolina have already decided to decline the additional funding in order to score some anti-Obama points. Put simply, we cannot allow this horrible decision to be made in any state, let alone here in Wisconsin.
Here's how this issue affects Wisconsin, specifically:
According to the Kaiser Family Foundation, Wisconsin will be able to add 211,000 citizens to the BadgerCare rolls by accepting federal funds. Because four-fifths of the adults who gain BadgerCare eligibility earn too little to be eligible for subsidized coverage in the new health insurance exchanges, BadgerCare expansion will be a boon to low-wage workers throughout the state. Also, the expansion will allow us to finally eliminate the waiting list for BadgerCare (which now has over 100,000 Wisconsinites on it).
States that have extended Medicaid coverage to "childless adults" (the main constituency of the BadgerCare waiting list) have seen fewer deaths – especially those caused by disease, accidents, injuries, and drug abuse.
Not only is expanding BadgerCare the right thing to do – it's the most responsible thing for the state to do financially.
For starters, the federal government will pick up the full cost of coverage for newly eligible adults for three years and at least 90% of those costs in subsequent years. And overall, the state would save approximately $495 million in healthcare costs over the next 10 years due to an increase in federal aid and a decrease in uncompensated hospital costs.
In addition, the expansion is good for the business community. According to a Community Advocates analysis, "(The) Governor's and Legislature's failure to fill the BadgerCare eligibility gap would expose Wisconsin's large employers to a tax increase. This tax would occur when employees between 100% and 138% of the federal poverty level, who do not qualify for BadgerCare, instead obtain premium or cost-sharing subsidies in the health insurance exchange, thus triggering higher taxes for their employers"
And finally, according to an independent analysis by Jack Norman commissioned by Citizen Action of Wisconsin and the Wisconsin Council on Children and Families, the $12 billion in federal money for BadgerCare will generate a net of 10,000 new jobs.
Isn't the Governor supposedly "laser-focused" on jobs creation and the business community?
In summary, accepting the federal funds to strengthen BadgerCare would not only insure over 200,000 Wisconsinites, it would create jobs, save money, and keep taxes low for the business community. It's a win-win on every front. The governor will most likely announce his decision when he releases his state budget in February, so there's still time for him to do the right thing.
Sign the petition today and urge Gov. Walker to make the right choice.