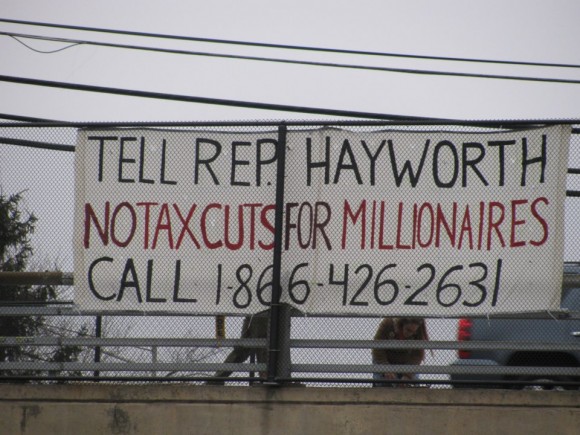 Residents of the Mid-Hudson Valley took to the bridges this past Saturday to urge lawmakers not to go over the impending "fiscal cliff". The group of twenty activists  had a clear message for outgoing Representative Nan Hayworth: come to a deal on jobs, taxes and vital programs like Medicare that works for the middle class and workers of New York.
More than 20 activists dropped a banner off of 1-84 in Beacon urging Hayworth to vote for tax cuts for the middle class, but not the wealthiest 2%. If the Hayworth and the rest of House fail to extend tax cuts for the middle class, the average middle class family of four in New York will face a tax increase of $2,200.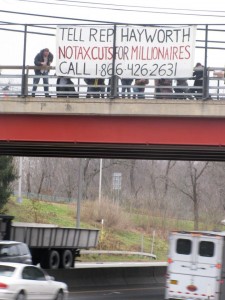 Extending the package of middle class tax cuts, on the other hand, would benefit 98% of Americans and 97% of small businesses making less than $250,000 per year.
The members of the Mid-Hudson Valley 99% and their allies who participated in the protest are amping up pressure on Hayworth as the lame duck Congress heads towards a deal on the "fiscal cliff." They are circulating a "jobs not cuts" petition that will be delivered to Hayworth on December 10. In it, they make clear that they  want a deal that protects Medicare, Medicaid and vital education programs like HeadStart, while also extending middle class tax cuts.
Hayworth who had previously indicated she would not vote for any increase in taxes on the top 2%, but under pressure from local activists, she recently indicated that her position may be evolving. The Mid-Hudson Valley 99%  will keep working to represent the interests of the vast majority of working and tax-paying New Yorkers, hoping that Hayworth will do the same.