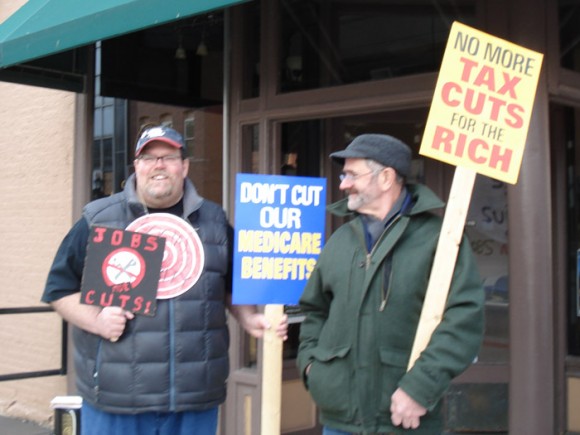 On Thursday, November 29th, Springfield residents visited Rep. Aaron Schock's Springfield office to demand he protect a middle class tax cut and protect Medicare and Medicaid.  A recent poll reported that the public sees the looming "fiscal cliff" as a serious crisis for the nation, yet Republicans, like Schock, are still willing to increase taxes on the middle class and are even willing to cut vital social services in order to preserve tax breaks for the wealthiest 2%.
"I went to my Congressman's office today to ask him to support middle class tax cuts and close the tax loopholes on the wealthiest 2%.  I want them to leave Medicare and Medicaid off the table because people have worked their entire lives for this and they should not try to balance the budget on the backs of the middle class," said local resident Marcus Parker.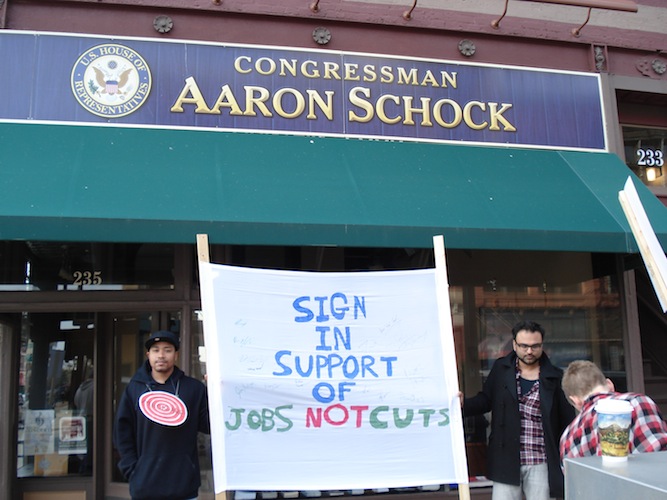 Congress faces serious choices before the end of the year. Will it make disastrous cuts to Medicare, Medicaid, childcare, special education and other vital public services that our communities rely on or will it take an approach that puts job creation first?  Most people agree that Congress should focus on middle class tax cuts, let the Bush tax cuts for the wealthy expire and close tax loopholes that only benefit the 'super rich'.
Residents dressed-up as Medicare, Social Security, Medicaid and illustrated the cuts Republicans want to make by creating giant cardboard scissors to mock cut Medicare, Social Security and Medicaid in half.  Participating residents in this action also asked voters, passing by, to sign a petition asking Rep. Schock to create jobs and grow the economy; stand firm on the middle-class tax cuts and let the Bush tax cuts for the wealthy 2% expire.
Watch media coverage from ABC 20 here.