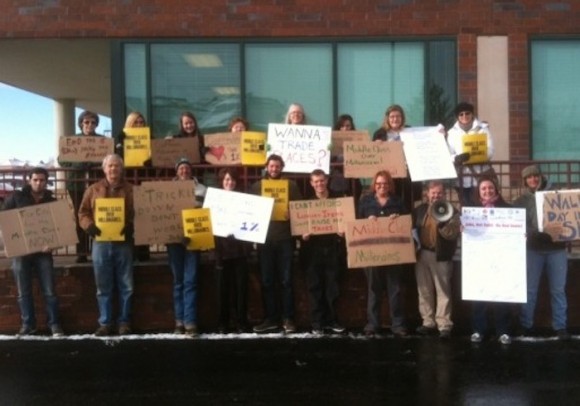 More than 150 activists from Colorado, including many from Colorado Fair Share, paid holiday calls to the offices of Congressman Mike Coffman and Senators Mark Udall and Michael Bennet on 12/10 to deliver a clear message: as Congress approaches the "fiscal cliff," they need to keep the 98% of Americans earning less than $250,000 in the forefront of their minds. The activists did 24 shifts of protests at the senators' offices,  visiting every 20 minutes.
Their message? Ensure Congress passes the middle class tax cuts while ensuring that the wealthiest 2% pay their fair share, while also protecting education programs, Medicare, Medicaid and other vital services.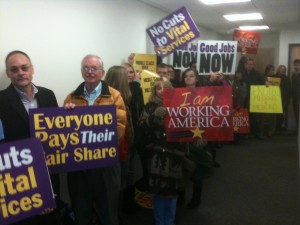 David Bouchey, a former biotech executive  from Aurora who has been searching for a job for more than two years said, "Working families will be sold down the river if Rep. Coffman doesn't end tax breaks for the rich and protect working families. I'm working two part-time jobs to try to support my family. Rep. Coffman needs to publicly agree to extend the middle class tax cuts and protect our vital services from cuts."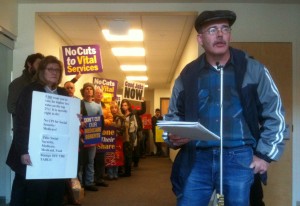 The protest was held as Congress considers ways to move the country forward while avoiding the automatic cuts to services and tax increases known as the "fiscal cliff." Some in Congress are holding out for more tax cuts for the wealthy, putting the middle class tax cuts in jeopardy. Some are pushing for a budget deal that includes cuts to Medicare, Medicaid, Social Security, education, childcare and other programs that families count on.
"This holiday season, so many of us are still hurting financially," said Jeanne May, an area realtor.  "My financial outlook is uncertain. Many of my neighbors and friends are in the same boat.  I went to Rep. Coffman's office today because I want to make sure that no politician jeopardizes our economy even more, when we are trying to get back on our feet."