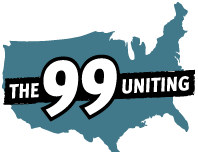 We have an update: After today you'll no longer be receiving emails from 99 Uniting. At this point in time, we recognize that 99 Uniting will be stronger if we join forces with some of our allies. It's a difficult decision to say "goodbye for now," but our fight for the 99% is far from over, and it's our challenge to use our resources to the best of our abilities.
We started 99 Uniting to support the Shareholder Spring, and since the beginning you used this platform to hold corporations and CEOs accountable for the way they treat workers. You brought workers' concerns into the national spotlight, and that's something you should always be proud of.
You stood up to corporate tax evaders and said no to more tax cuts for the rich.
You educated 2012 voters about how a Romney Economy would have been intolerable, and because of your activism online and on the ground, Americans rejected that economic vision on Election Day.
You made it impossible for the media to ignore fast food and retail workers' demands for better pay and the right to join a union without retaliation.
You supported Senator Tom Harkin (D-IA) and Representative George Miller's (D-CA) introduction of the Fair Minimum Wage Act of 2013, which would raise the minimum wage for the first time since 2009.
You made sure that every single U.S. Senator and House member heard from us about our need economic fairness and a fair shot at the American Dream.
We want to make sure you stay in the loop on economic issues that matter, so you'll continue to receive email updates from SEIU. SEIU has been a partner organization in 99 Uniting and, through its Fight for a Fair Economy campaign, will continue to organize around these issues. If you'd like to opt out of this, click the "unsubscribe" link at the bottom of this email (we hope you don't).
In the next few weeks, the fast food and Walmart strikers will be taking further actions to raise their wages and get respect at work. You can play a pivotal role in these campaigns by showing your solidarity both online and in your neighborhood.
We're so proud of what we've already accomplished, and we're eager to keep working on these tremendous fights with you in other ways. It will be an uphill battle, but together we will close the gap between the rich and the rest of us.