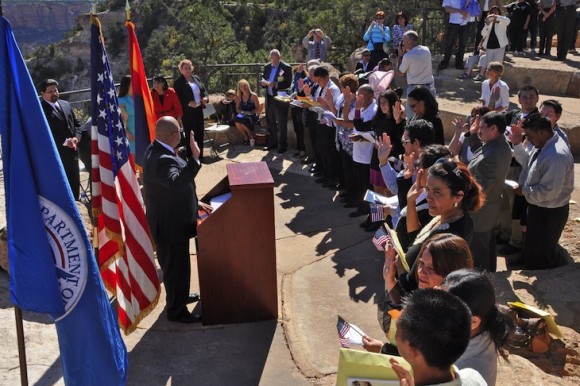 Americans know that our immigration system is broken. And now, more than ever, there is momentum for reform.
Poll after poll shows support for commonsense solutions that reflect the greatness of a proud American tradition: the ability for hard-working people to start a new life with their families.
This Tuesday, the President announced a plan for commonsense immigration reform, and just days before it, a bipartisan group of Senators has revealed their own blueprint. And now, it's the House's turn to answer.
Together, as 99 Uniting, we will join in the fight for legislation that grows our economy, raises wage protections for all workers, strengthens our families and communities and offers a just and long-lasting fix to our immigration system.
And there's a clear reason why we, as 99 Uniting, would help take this on. We stand for economic fairness. Immigration reform is one of the commonsense ways for us to lift up communities, boost working people's wages, and ensure that everyone has a shot at the American dream. A comprehensive fix to our immigration system could add $1.5 trillion to our economy over the next ten years, create nearly a million jobs, and increase consumer spending by $5 billion per year.
The end result matters, too: both for our economy's sake, and for the sake of new Americans and their families. A path to citizenship needs to be straightforward, realistic, practical and achievable.
This won't necessarily be easy. In Washington, even the most simple of agreements are hard to come by. But together, we've fought roadblock after roadblock. We've stuck to our principles, and we've never taken "no" for an answer. And when we fight together, we win. We've proven that.
As this debate begins and continues, let's make sure that everyone who contributes to our economy is rewarded for our country's success. That's the task we've always taken on, and that's the task at hand now.