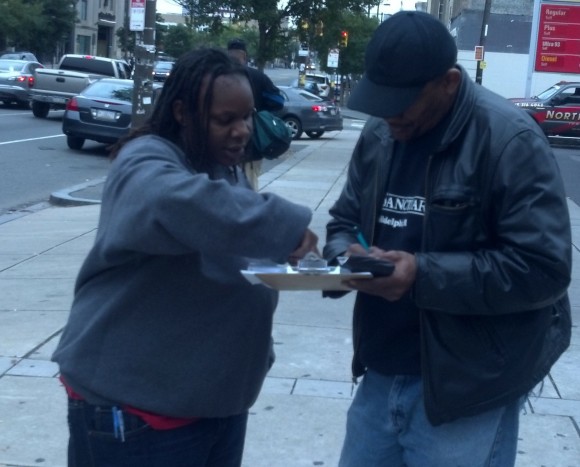 Philadelphians held a boisterous rally with the traveling Bain workers earlier today, speaking out and carrying signs on a busy downtown street corner in front of a Dunkin Donuts and across the street from a Staples.
Bain Capital owns Staples, and the investment firm recently sold Dunkin Donuts after implementing its business model of low wages and reduced benefits, while making millions for Romney and other investors.
At the rally, Mr. 1% returned to interview the Bain workers, Libya Wilson, Darrin Little, Simara Martinez, and Shantees Jones.
Watch video here:

Shantees, a New York City native, spoke movingly about how difficult it is for her to support her three children on a low-wage job with no benefits. She fears what would happen to her kids if any of them became ill, because her job provides no health insurance.
Today is the last day to register to vote in Pennsylvania, so the Bain workers and supporters helped out with a voter registration drive during the rally and later in the afternoon. Pennsylvanians, make sure you register to vote by the end of today!