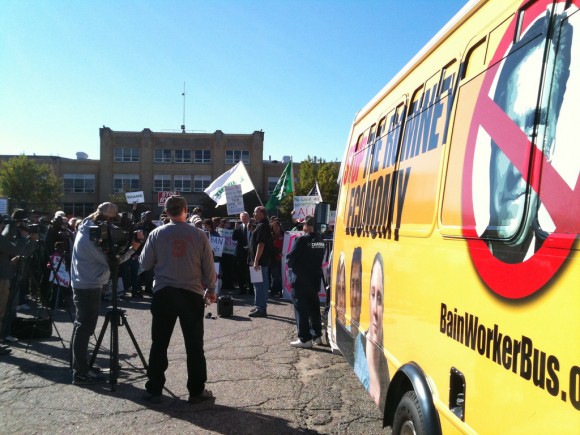 Dot Turner has worked at Sensata for 43 years. Thanks to Bain Capital, Sensata is outsourcing her job to China only a few years before she would be eligible to retire. Dot is riding on the Bain Worker Bus Tour to show American voters how a Romney Economy has harmed her family.
Dot and other Bain workers spoke to a crowd on Sunday at a tour stop in Janesville, Wisconsin. Dot says, "If Mitt Romney is made president, he'll sell this country off just like he did with Bain Capital, piece by piece."
At the rally, Dot announced that the Sensata workers are holding an Outsourcing Pig Roast on Saturday September 29th at Bainport to protest Bain Capital shipping their jobs overseas.
Another Bain worker traveling on the bus, Jessica Muniz, is a single mother with 3 kids to support. She earns $7.25 an hour at Dunkin Donuts, recently sold by Bain Capital, but after she took sick leave her employer no longer schedules her for shifts. Listen to her story: