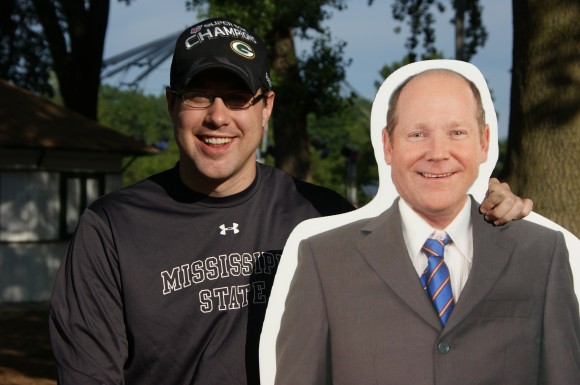 Wisconsin is taking matters into their own hands.
Voters in Green Bay are so upset by what their Congressmen Rep. Reid Ribble (R – WI) has done—or in this case, has failed to do—that they've turned to comedy to raise awareness and garner attention.
To prove that their needs do matter and their voices count, voters have created a life-size cardboard cutout of the Congressman, which they are taking around to area businesses, parades, and events.  The antics of the cardboard congressman can be found on the Facebook page, Where's Ribble, which has gained considerable traction since its creation last week.
Since taking office nearly two years ago, the real Congressman Ribble has failed to hold a single town hall meeting in the district he represents. He has, however, had no problem catering to the 1%. Ribble has a
reputation for attending high-dollar fundraisers
just outside of his district. There, he can't be bothered by the day-to-day concerns of regular working people, who, because of distance, time or a lack of disposable income, simply do not have the means to attend.
Considering the real life Congressman is essentially dead weight, one might think that being represented by a piece of cardboard isn't much different—but that's not the case at all. Cardboard Ribble—as the replacement Congressman has become to be known—is light-hearted, good-humored and actually does what elected representatives are supposed to do: he makes himself available to voters. In doing so,
Most recently, Cardboard Ribble proved his worth by offering to let constituents take their picture with him free of charge. The real Ribble, on the other hand, charged voters $1,000.
You, too, can join in the fun and send a message to politicians that catering to the 1% won't be tolerated. Like the Where's Ribble Facebook page and support the 99%!