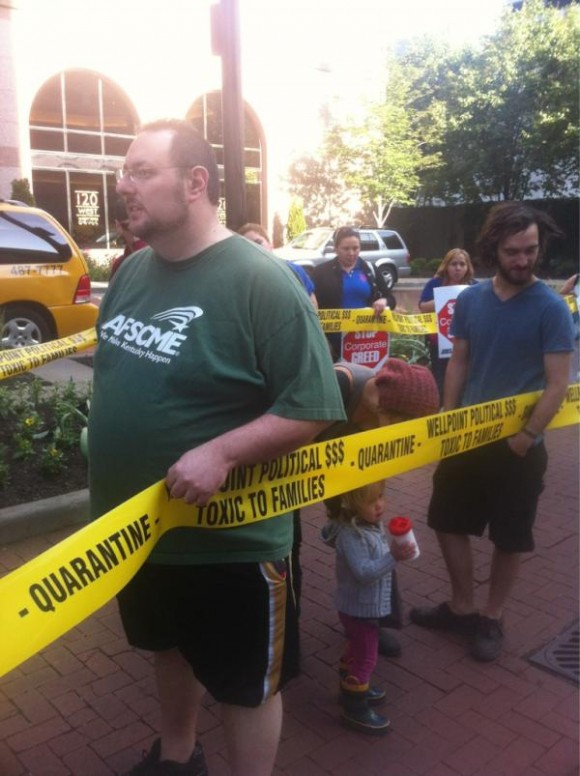 It's been an amazing few weeks for the 99%. The voices of the 99% have been heard at shareholder meetings from San Francisco to Charlotte and we're not stopping anytime soon.
This past Wednesday in Indianapolis, insurance giant WellPoint Inc. held their shareholder meeting. Bright and early at 8 AM, the 99% were rallying outside of the Hilton on W. Market Street, ready to demand that the company stop spending money on political campaigns.
WellPoint is one of the largest health insurance companies in the country. It operates as a Blue Cross licensee in 14 states. More than 30 million of us are enrolled in its health plans. The company is a major funder of extreme political activity, and routinely use proceeds premiums paid by workers to fund campaigns across the country.  
WellPoint has funneled money to front groups to fight health care reform while hindering states' implementation of the Affordable Care Act and backing the extremist politics of the billionaire Koch brothers.
Their corporate political action committee (PAC), called "WellPAC," raised $1.3 million in 2010. Of the money given to Federal candidates, 75 percent was given to Republicans. WellPoint also "spent an additional $1 million on lobbying activities in 2010, and 77 percent of that amount was given to Republicans."
WellPoint is also a funder of the American Legislative Exchange Council (ALEC), an organization that has recently taken criticism for a number of issues—in particular, says the AP, "for its support of so-called "Stand Your Ground" laws that are a point of contention in the wake of the shooting of Florida teenager Trayvon Martin." Even Coca-Cola and McDonald's have said they have cut their ties and are no longer members of ALEC.
During the meeting, Bobby Jones, an AFSCME representative from New Hampshire, asked [Chairwoman and CEO Angela] Braly if she would commit to cutting ties with ALEC, and another shareholder presented a petition she said was signed by 15,000 people asking the Indianapolis company for more disclosure.
During the meeting, security tossed one shareholder, Michael Pryce-Jones, out of the meeting for speaking out of turn. According to the Indianapolis Star, Pryce-Jones, a senior analyst of CTW Investment Group of Washington, D.C., said he wanted to ask about political donations:
"'It's not the way you conduct a meeting,' Pryce-Jones said, standing outside the Hilton after he was escorted outside by three security guards."
Outside, a group of about 60 protesters held signs and balloons denouncing WellPoint. The protesters later moved to Monument Circle, where they marched and gave speeches on the steps of the Soldiers & Sailors Monument.