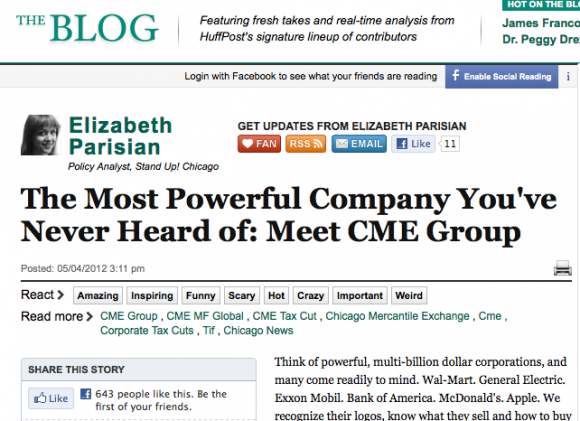 One of our partner organizations, Stand Up! Chicago, profiles one of the most powerful companies that you've never heard of.
Policy Analyst Elizabeth Parisian published this on the Huffington Post:
"What does CME Group do, exactly? Maybe the word 'derivative' rings a bell. Derivatives are the risky financial products (think credit default swaps) that brought the economy crashing down. The exchanges CME Group operates do handle a few respectable transactions — farmers protecting their commodities against price fluctuations for example. But mostly, these exchanges operate as giant casinos where thousands of ultra-wealthy traders and speculators go to place bets on the rise and fall of the price of commodities, including oil, gold, currencies, interest rates, and other exotic financial products."

"Although keeping a low profile has helped CME Group become so powerful, over the last few months the company's irresponsible behavior has earned it some unwanted attention. The collapse of its client MF Global, former New Jersey governor John Corzine's derivatives brokerage where $1.6 billion in client funds went missing last October, put CME Group in the spotlight. The CFTC, the federal agency that oversees futures exchanges, is now investigating CME Group to determine whether the company fulfilled its regulatory obligation to safeguard customer money. And just a few days ago, CME Group announced that CEO Craig Donohue would be stepping down much sooner than anticipated, amidst growing trader dissatisfaction with his handling of the MF Global crisis."

"Given both its immense power and its history of predatory behavior, we would be wise to keep an eye on CME Group. In the coming weeks and months, Illinois will be grappling with the giant hole that the company's tax breaks have left in the state budget, and families will suffer as a result. There has never been a better time to stand up to this powerful company and demand that it give our money back."
You can read the full essay here.