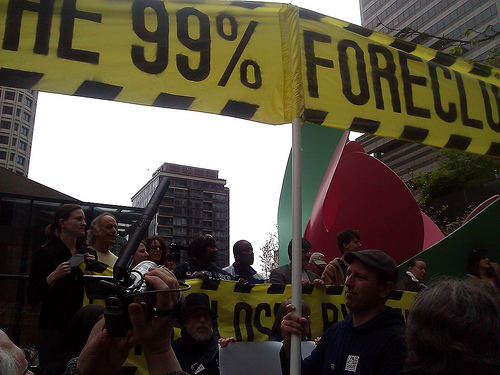 Tax Day protesters, calling for the 1% to pay their fair share, continue to make their voices heard across the country.
In DC, groups like MoveOn.org, Occupy D.C., and Campaign for America's Future, as well as religious organizations, labor, and DC civic organizations joined together and rallied for tax fairness at the IRS.
In Seattle, protesters marched to "foreclose" on Wells Fargo for unpaid taxes.
And in Miami, they set up a red carpet and created a "Walk of Shame", a who's who of the city's and country's biggest tax dodgers. The display showed staggering statistics regarding tax rates, executive compensation and money spent lobbying by corporations like Wells Fargo, Nextra Energy, Carnival Cruise Lines, Royal Caribbean, Exxon, GE and Fed Ex.
Pictures and video after the jump.

D.C.
Seattle
Miami